Lokasi : Kota Rembang, Jawa Tengah
Atap : Bolt System U472
BERAGAM PENGHARGAAN
YANG DI RAIH PT. UTOMODECK METAL WORKS
---
Pada 9 September 2013
PT.UTOMODECK METAL WORKS berhasil memecahkan rekor dunia sebagai produsen atap tanpa sambungan terpanjang di dunia,  yakni 200,9 meter lari per lembar di Proyek Coal Shelter PLTU Rembang milik PT. PLN (Persero) yang berlokasi di kota Rembang, Jawa Tengah, Indonesia.
On September 9th 2013
PT.UTOMODECK METAL WORKS managed to break the world record as the longest roof manufacturer in the world, with 200,9 meter length per sheet in PLTU Rembang Coal Shelter Warehouse Project belongs to PT. PLN (Persero) at Rembang City, Central Java, Indonesia.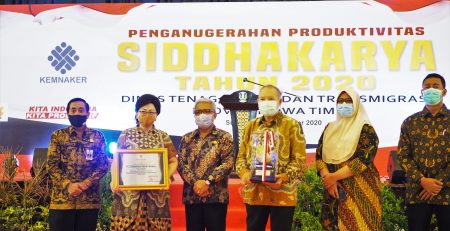 PT Utomodeck Metal Works menerima penghargaan dari Dinas Tenaga Kerja dan Transmigrasi Jawa Timur yang menggelar Penganugerahan Produktivitas Siddhakarya…
read more